Open days
Culture and Design Showcase
For two days every summer, the School of Design and Cultureopens its doors for its annual showcase. It is an opportunity for students from cultural and creative study programmes to present their work and the projects they have completed over the course of the semester. Exhibitions, presentations and guided tours provide helpful insights into the study programmes and facilitate direct contact with teaching staff and students.

At the open days of the Museums Studies degree programme prospective students can have a look around and find out information about the pre-study internship, study programme and career prospects in the areas of museum work and culture. Friends and parents are also welcome to attend. Further information can be found on the study programme website (in German).



During the information events of the Conservation-Restoration/Field Archaeology Bachelor's study programme you are invited to visit the workshops and laboratories. Two students are on hand to provide a comprehensive tour of the Wilhelminenhof campus and to answer questions about application documents, application formalities and the study programme. Current dates and contact details can be found on the study programme website.



Engineering & Computer Science Day
Engineers and computer scientists can look forward to first-rate career prospects — and not only in Germany. The open day presents a number of study programmes to students and cooperation partners with a series of lectures and laboratory tours. Students from the TIENS project also outline the range of study programmes offered by HTW Berlin and offer campus tours. School pupils in Berlin can be granted permission to be absent from lessons in order to attend the Engineering & Computer Science Day.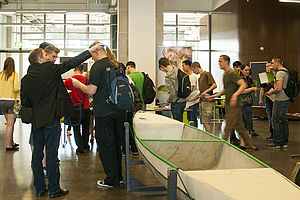 Business & Management Open Day
HTW Berlin is an excellent choice for students wishing to pursue a career in business or to start up their own company. The Business Administration study programme alone offers nine different specialisation options. At the Business & Management open day, prospective students can visit the Treskowallee Campus and chat with students and professors.