HTW TIENS
Fiona
Computer Engineering
After studying for two semesters at a university, I decided to transfer to HTW Berlin because I wanted a more personal learning environment and more practice-oriented content. This is a really important part of the Computer Engineering study programme. I'm fascinated by this subject because I want to understand how the technology works that surrounds us in our daily lives (and elsewhere!). Having found the right study programme for me at HTW Berlin, I want to help prospective students by sharing my experiences and offering guidance.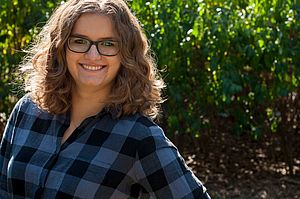 Sophia
Clothing Technology
I needed a break after finishing school, so I took the time to gain some practical work experience. I spent a year doing voluntary work in the social sector, then I did a couple of internships. After my application to an arts school was declined, I went for some professional career counselling and I found out about the Clothing Technology/Fabric Processing study programme. I've always been interested in textiles and sewing. Thanks to the well-equipped labs at HTW Berlin, I'm now learning a lot about working methods in the textile industry and the machines that are used. I know the feeling of not knowing which way to turn – it's something that weighs heavily on many school pupils. I want to give them the courage to consider even the most unusual of study programmes and not to just dismiss them.
Arrange a date
If you are interested in one of the above events, please send an email to the Study Advisory Service. She will contact you to arrange for your school class to meet members of the TIENS group who will inspire your pupils with their enthusiasm for studying.
School pupils meet university students
A group of student volunteers at HTW Berlin called the "HTW-TIENS" offer school pupils helpful insights into the different study programmes and daily life at university. They visit schools and provide tours of the HTW campus. They explain how they decided which subject to study and take school pupils on a tour of the labs, the canteen and the campus.
TIENS stands for Technology, Informatics, Energy, Natural Sciences. The programme was launched in cooperation with students from engineering and science study programmes a few years ago. Now students from all subject areas at HTW Berlin are involved in the TIENS programme, covering everything from engineering and computing to business, law, culture and design.
TIENS initiative
Information from students followed by informal talks (approx. 1 to 2 hours)
Campus tours (approx. 30 to 40 minutes)
Lab visits
Accompanying a student for a typical university day (for individual school pupils)
Workshop on academic writing for school pupils (2 hours)
David
Computational Science and Engineering
I've always been inspired by technology. After finishing my vocational training in mechatronics and gaining my higher education entry qualification, I decided to study Computational Science and Engineering at HTW Berlin. My brother was already studying at HTW Berlin and he had told me really great things about it. I really enjoy the wide-ranging and interesting study programme. I would like to help school pupils to get a better idea of student life and show them that studying will open doors for them that they never could have imagined.
Serkan
Renewable Energies
Having focused on geography at school, I knew that I wanted to study something relating to the environment. The Renewable Energies study programme offered the ideal combination. For example, I can investigate climate change and electricity from the perspective of renewable energies. I chose HTW Berlin because the university has a very good reputation in this field in Germany and research is carried out right here on campus. As a TIENS member, I want to give prospective students an insight into my degree programme as well as other study programmes at HTW Berlin.

Paula
Life Science Engineering
I've always been fascinated by the technical applications of biological processes. After I finished my training as a biology technician, I didn't want to stop learning and decided to study for a degree. I chose HTW Berlin because I didn't want to miss out on the practice-oriented approach I had in my training. As a member of the TIENS group, I want to help students get over their fear of studying and help them to see the opportunities that studying can offer them.
Selina
Business Administration
After finishing my vocational training in commerce, I decided to study Business Administration at HTW Berlin. I found the practice-oriented programme and the opportunities for specialisation very appealing. I'd like to emphasise to prospective students that it really is possible for everyone to achieve something in life. There's never just "one right way", there are many different paths for you to reach your goals.
Steffen
Museums Studies
I chose Museums Studies so I could indulge my love of old things. I feel very at home here because there's a very wide range of topics to choose from and I like the people on my study programme. It took quite a while before I knew exactly what I wanted to do. I only figured this out thanks to some helpful counselling I received. That's why I want to help others to make the right decisions too.

Maximilian
Business Administration
After my vocational training in tourism, I decided to study Business Administration at HTW Berlin. I didn't want to be an anonymous face in a huge lecture theatre. I also wanted to be able to apply what I was learning in practice during my studies. HTW Berlin was the right choice for me. Together with the other TIENS, I want to show prospective students that they shouldn't be afraid of taking this new and exciting step in their lives.
Marie
Renewable Energies
When I finished school, I didn't know what I wanted to study. After a lot of research I found the Renewable Energies study programme. HTW Berlin appealed to me because of the interesting modules on offer and the practice-oriented teaching approach. Today I'm really happy to be studying at HTW Berlin. The labs and lectures in small groups make it easy for me to understand the material. As a member of the TIENS group, I want to help school pupils not to feel pressured into making a decision and give them a general overview of what HTW Berlin has to offer.
Tolga
Business Computing
After finishing my secondary education, it was clear to me that I wanted study computer science because technology and software determine so many areas of our lives. To incorporate my interest in business, I decided to do the "Business Computing" study programme. I specifically chose a university of applied sciences because I wanted to study in smaller groups and HTW Berlin has a very good reputation. I enjoy helping prospective students to embark on this new phase of their lives.