I'm from Berlin and my family is from Malaysia. I gained my university entry qualification by doing a combined training and study programme as a renewable energy engineering assistant. I'm really excited about studying Business Computing because I will also be learning programming. I'm looking forward to everything that awaits me, just as long as it's not like being in school. In future I would perhaps like to work as a software developer for IBM.
Jeffrey Liew (21), first semester Business Computing (Bachelor)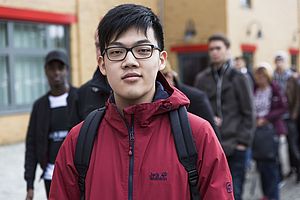 I only arrived in Berlin yesterday and don't know the city at all yet. Amazingly, when I arrived at the station, I bumped in to someone I knew from when I was studying in Wolfenbüttel. I did my degree there in Law, Finance Management and Taxation (LL. B.) and I've also worked in this area and done internships. I'm now looking forward to doing my Master's degree in Business Law at HTW Berlin and to meeting new people. The content of the programme sounds very promising and I've also had a look at the exam regulations. I'd like to work in consultancy and succession management because I think this is a really interesting field.
Cansu Sarizeybek (24), first semester Business Law (Master)